For those who want to stay away from the heat of the sun but still want to go catch some fish, you would probably wish to do it at night. Fishing during the day is way different than fishing during the night, just so we're clear. There are a lot of factors to consider, not to mention the lack of light and the lack of heat the sun usually gives during the day, which is actually a good thing when fishing. Luckily, we have useful tips for fishing at nighttime.
Don't be tardy
You are going to want to arrive before sunset. This is so you won't have trouble navigating in the dark when you get there and avoid tripping into the water.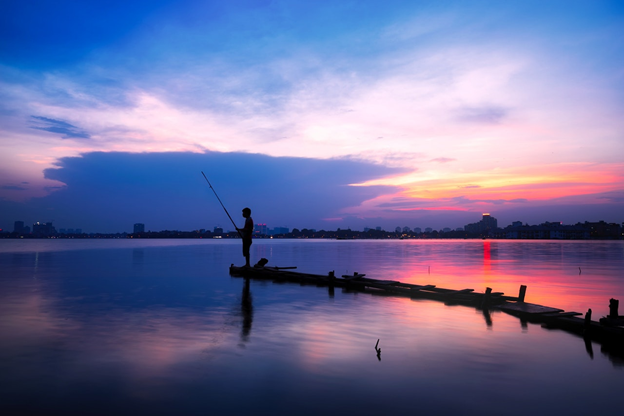 Come prepared for night fishing
First off, go to a fishing tackle shop in Australia or in your country before you decide to go fishing. Don't just go fishing without any proper equipment for fishing. Get fishing rods and tackle boxes. Be prepared if you wish to fish. It's going to get hard seeing the fish in the dark, even if you have lights with you. Therefore, it will be easier if you have the equipment needed to fish. You should also keep the deck clean so you can avoid any mishaps that might happen in the night.
Go slow in clear water
When bass hug the bottom or burrow into cover, you might want to try a plastic worm kind of lure (we're going for a slow-moving lure here) when fishing in clear water.
Go punching in murky water
In your night time spot, if the water happens to be off-coloured, you will need to concentrate on shallow cover. Reel up the slack line after you present the jig with four or maybe three pumps of the rod tip. After that, start another series of quick pumps.
Toss spinnerbaits in the wind
It is ideal to use a black 3/4 or maybe 1/2 ounce spinnerbait for catching aggressive bass, particularly on windy nights. Get the blade bait back at a steady pace on the rocky banks over sunken brush piles or standing timber. This is one of the fun fishing nights because bass would come chomping at you bait while you are burning it through the water.
Make some noise for calm night fishing
Go ahead and throw a prop bait or a noisy topwater chugger on calm nights just for bass, maybe suspended near the surface. Boat docks with plenty of lights are the prime targets for topwater tactics during night time. They usually have these sunken brush piles holding bass, making the lights shining on the boats get and attract sunfish or shad right up to the surface.
It might be best to have someone with you while going fishing at night. But if you plan on doing this as a relaxing past time just by yourself, then by all means that is wonderful too.